Matilda, Your Tudor Girl ™ - crowdfunding overview
We've always believed that toys should be intelligently designed and we're proud that we've achieved exactly that with our historical range of dolls, a unique range of characters that tell the stories of the first girls in each generation of the Marchmont family. We follow their adventures from the courts of Henry VIII to London's Swinging 60s. We hope that by following the adventures of the Marchmont girls through time, your child will be inspired to learn about his or her own family story. 
Matilda, Your Tudor Girl ™ is the first character that we launched and she has been out of stock for nearly a year. We are excited to bring her back, even better than before, with an improved dress design and more streamlined packaging.  
CROWDFUNDING and YOU
We are super-excited to offer YOU the opportunity to bring Matilda home through our very own Crowdfunding Campaign.
By supporting our Crowdfunding Campaign, you will help us raise the funds needed to manufacture Matilda at the best price possible and help A Girl for All Time continue to provide you with high quality products that inspire and delight. 
What is Crowdfunding ? 
Crowdfunding is when individuals contribute a certain amount of money to fund a project in return for a reward or incentive. In this case, the reward or incentive you receive is a doll at a substantial discount from the full retail price. 
| | |
| --- | --- |
| Crowdfunding Price - $130.00 | Full Retail Price - $190.00 |
** Special Retailer Packs will be available. Contact us for more info.
You can read WHY we are crowdfunding here 
Meet Matilda, Your Tudor Girl™
Matilda is the very first character we launched and she is the start of the iconic Marchmont family tree. Matilda is sent to the court of Henry VIII to spy on her cousin Katherine Howard, in the hopes of advancing her family's fortunes. However, Henry's Court is full of treachery and intrigue and Matilda finds herself caught between loyalty to her cousin and doing what she knows is right. 
Like all of our A Girl for All Time dolls, Matilda is 16" in height (approx 41 cm) with 9 points of articulation (elbows, knees, shoulder, hips and head) and she has an all-vinyl torso.
Our dolls inspire hours of play and imagination, and are all safety tested for ages 3+ . 
What makes A Girl for All Time dolls so unique ? 
We craft our dolls and accessories to last a lifetime, and produce a range of items that will become part of your child's special memories, passed down from one generation to the next.
All of our products are designed in house by our own team - and each is a labour of love. We invest a huge amount of time perfecting our dolls and costumes, from the initial face sculpt to the finishing touches on the packaging. 
About A Girl for All Time 
A Girl for All Time® is a boutique toy company based in the UK which designs and produces award-winning playdolls, books and accessories inspired by the a love of family history and family story-telling. 
We launched A Girl for All Time nearly 7 years ago because we believe that toys should celebrate childhood in an intelligent way, inspiring a lifetime of play and imagination. We don't believe in 'throw away' toys that are quickly forgotten, discarded once the next new thing comes along. We believe a toy should hold a special place in a child's life for a long time. 
A Girl for All Time - Our Awards and Reviews
With over 20 awards under our belts for design, craftsmanship and quality, we are swiftly becoming known as the 'go-to' brand for high-quality dolls that inspire learning, imagination and creativity. We have hundreds of 5* reviews for the current products on our website, and  have successfully produced 9 different characters,  6 different collections and a total of nearly 50 different items including dolls, costumes and accessories . 
We love what we do and work very hard at creating the best products possible. We have been lucky enough to receive the industry's most prestigious awards from the most respected reviewers on both side of the Pond and have been featured in some great articles and blogs.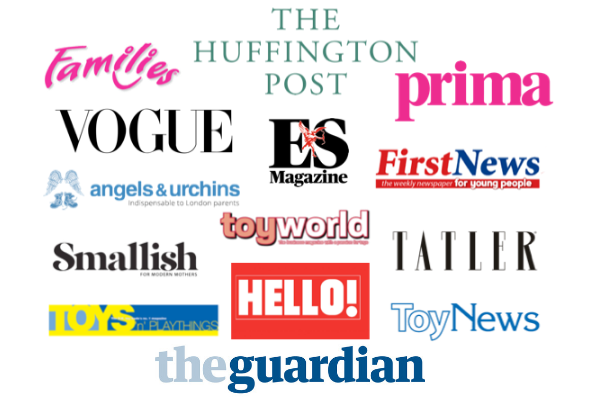 But what we really love is what our customers say about our products. Please click this link to read more about reviewers have to say about us, or visit our website to see our reviews tab. 
How

you

can help bring Matilda back in stock. 
We've already perfected Matilda's sculpt and have improved her costume design and streamlined her packaging. The money that we raise from Crowdfunding will go specifically to manufacturing Matilda, completing rigorous safety testing and inspection, producing her beautifully designed packaging and then finally shipping to our warehouses in the UK and the USA, where they will then be sent on to you. 
Legal Stuff:
There are always risks and challenges with the production of anything. There can be delays at the manufacturing facilities if the factory falls behind schedule, or shipping time tables can be delayed due to weather, equipment, carriers or simply human error. Exporting product over any holiday season can also add unforeseen delays and there is always the risk that items make it all the way to it's destination and they get held up in customs for some unknown reason!
However, after 7 successful seasons of production under our belts we have a good idea of how to manage the hundreds of processes that it takes to get our items from concept to production and into your homes.
A reminder that if the campaign does not successfully fund - i.e. if we do not meet our minimum units needed to manufacture the item - then the campaign will be cancelled and all monies will be refunded. 
Timeline:
| | |
| --- | --- |
| Campaign Launch Date  | 19 May 2019  |
| Campaign Close Date  | 19 June 2019 (end of day GMT) |
| Estimated ship date to customers ** | 01 Dec 2019 - 15 Jan 2020 |
 ** shipping date is an estimate and is subject to change. 
FAQs 
Here is a little section we've put together to answer some of your questions. It will be updated as the campaign progresses and it is based on queries we get the most from potential supporters. Please check here for your queries, and if you don't see what you are looking for, please drop us a line at info@agirlforlltime.com 
Where do my items ship from ?  We have two warehouses at the moment, one in Califonia (USA)  and one outside of London (UK). Any orders with a shipping address of North America or South America will go from our warehouse in the USA. Any orders with a shipping address of the UK, EU, Europe, or Austral-Asia will ship from the UK warehouse. When you place your crowdfunding order, you will be offered a selection of clearly marked 'Crowdfunding Shipping' options. Please choose the correct one and check out as usual. If you are unsure, please drop us a note. 
I see that the all the crowdfunding campaigns are on only the US website and are only in USD.  Why is that and does that mean I will be billed in USD? Are there any foriegn currency charges that will be applied to my card?   This year, we have created our very own crowdfunding platform on our own site. It gives us much more control over the products we want to launch, when we want to launch them and how often we want to have campaigns. However we can only place the campaigns onto one site, so we have had to use the US based site to host them. Anyone can purchase from anywhere in the world and appropriate shipping rates will be applied. If you are in the US, you will be billed in USD. If you are outside of the US, you will be charged at that day's exchange rate in your local currency by your bank. Your bank decides any bank charges applied to your card or method of payment. Please refer to your bank card supplier for further details. A Girl for All Time does not apply any additional charges to your cards.
When will I get my items?  Manufacturing + shipping normally takes 6-8 months after the closing date of the campaign. Please note we do our best to deliver as early as possible but we are bound by the schedules of the factory and cross ocean freight shippers. We will keep you up to date as we get through the manufacturing and delivery process. 
What happens if the campaign does not fully fund?   If the campaign does not fully fund by the end of the 30 day period then all monies will be returned to supporters in full. However we are not liable for fluctuations in exchange rates and we are not liable for any difference in refunds due to currency exchange rates. By supporting to the campaign you acknowledge this and agree per our terms and conditions. 
You've mentioned in other campaigns that all fabrics pictured are 'prototype fabrics'. What does that mean?  The road to making a doll, boxed and ready to sell, is a very long one! Each and every fabric we use has to be safety tested for every single one of our dolls. We test colour fastness, heavy metals safety (think metalic sparkles in some fabrics, or even the silver snaps used to close a top or as decoration on a shoe), and more. We test everything to make sure that fabrics don't unravel, shred, catch fire... you name it, we test it. This is a very costly process so we cannot test fabrics until we know we are going into production. So the fabrics you see photographed here are used for our 'prototypes' or design samples. Once we go into production, then we can purchase fabrics as similiar as possible to our prototypes and they will then be analysed and tested as needed.  Quite often they will be changed or tweaked for fabrics that can pass every one of our tests. So the designs you see will remain the same, but the final fabrics may change. 
Thanks for taking the time to read about us and we hope to have you join us on our journey!
x